Writing from Prison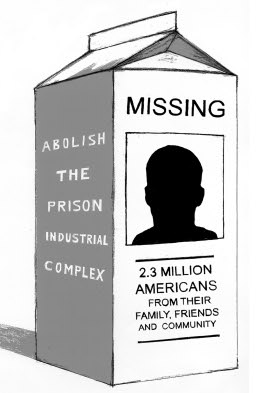 Nicolas Lampert - Just Seeds Portfolio Project
These essays were sent to the Real Cost of Prisons Project by men who are incarcerated. Additional essays and other writing will be added.
We encourage you to contact the writer directly if you like their work and/or want to use his/her work. If no contact information is available, please contact lois@realcostofprisons.org
To submit political and analytical writing, please send to The Real Cost of Prisons Project. There is no payment available for posting writings.
For more information, contact lois@realcostofprisons.org or mail to:
Real Cost of Prisons Project
5 Warfield Place
Northampton, MA 01060
If friends, family and others have access to a computer, please send writing as a Word document or an email.
---
Writing: Inside and Outside
Rain Shadow Review
Rain Shadow Review is a product of the Creative Writing Workshops directed by Erec Toso at the Arizona State Prison Complex, Tucson. Contact: Rain Shadow Review, P.O. Box 85462, Tucson, AZ 85754-5462
PRISONEDUCATION.COM: WHO WE ARE AND WHAT WE STAND FOR
PrisonEducation.com is a source for prisoner education, and correctional education news, information, and research. Our purpose is to advance the position that prison education is fiscally sound, research- and evidence-based, and smart on crime.
CURE-ARM MA Newsletter
Captured Words/Free Thoughts: Collections of writings from prisoners
Volume 8 | Volume 9 | Volume 10 | Volume 11
Volume 8 includes work from a writing workshop held at the Denver Women's Correctional Facility. Other issues have included work sent from prisoners in IL, MI, TX, CA, KS, NJ and AZ. Stephen John Hartnett, editor writes..."the magazine strives to counter the corporate mass media's attempts to teach us to fear prisoenrs as monsters by instead cultivating and celebrating their talent, humanity and indomitable spirit. Free copies are available by writing or emailing: Stephen John Hartnett, Department of Communication, UC Denver, P.O. Box 173364, MC-176, Denver, CO 80217. Stephen.hartnett@ucdenver.edu. <

APFFC Newsletter
http://www.scribd.com/doc/177287388/APFFC-Newsletter-14-October-2013

Mass Prison Voice
Summer/Fall 2013
Fall/Winter 2012 Issue

Prisoner Express
The Prisoner Express program, sponsored by the Durland Alternatives Library, promotes rehabilitation by offering inmates information, education and the opportunity for creative self-expression in a public forum. Participation in this program fosters self-exploration, enrichment and knowledge. The Durland Alternatives Library has a number of ongoing programs as parts of its Prisoners Express project. Poetry Anthology, Prisoner Express Newletter, long-distance learning. Address: Prisoner Express - 127 Anabel Taylor Hall - Cornell University - Ithaca, NY 14853

U.S. Prison Conditions - A Human Rights Issue by Bonnie Kerness, Director, American Friends Service Committee Prison Watch Project, June 1, 2013.

A Call for Aid in Building an Infrastructure for the Movement from the N.C.T.T.-Cor-SHU
For more information: http://ncttcorshu.org

Yale Law Journal Prison law writing contest winners (2013)
"The Prison Rape Elimination Act (PREA) and the Importance of Litigation in Its Enforcement: Holding Guards who Rape Accountable" by Elizabeth A. Reid
"The Meaning of Imprisonment " by Ernie Drain
"Solano Justice" by Aaron Lowers
http://www.yalelawjournal.org/images/pdfs/1170.pdf

Advocate: Sentencing Justice Reform Advocacy (CA)
http://www.sjra1.com/index_files/theadvocate.htm

Willy the Plumber Scholarship
"Specifically for children of inmates doing a lot of time or habitually getting locked up." Utah only.
http://www.willytheplumberscholarship.net/
Salt Lake Tribune article about the Willy the Plumber Scholarship

Patricia Marshall Vickers Testimony to the Democratic Policy Committee Hearing on Solitary Confinement, September 18, 2012
Patricia Marshall Vickers is the co-editor, with her son Kerry Shakaboona Marshall, of The Movement. This is from her testimony: "As I mentioned earlier I am speaking from secondhand prison experience – like a nonsmoker who gets cancer from secondhand smoke. So I know about people being held in a cell for 23 hours at a time, day after day, year after year. I know of men who have spent five, ten, twenty and thirty years in solitary confinement. I know their names and have been in touch with them. " Kerry Marshall (Brother Shakaboona). I am Vice President of the Pennsylvania Lifers Association at SCI-Rockview. I have served as committee Chairperson of the NASACP branch at SCI-Graterford. I am an Advisory Council member of the Real Cost of Prisons Project. I am also a founding member of the Human Rights Coalition in Philadelphia, and the co-founder and co-editor of THE MOVEMENT magazine. Moreover, I am a Juvenile Lifer prisoner confined at SCI-Rockview, who has served nearly 25 years of imprisonment within the Pennsylvania Department of Corrections' state prisons, with approximately 17 years of that time served in solitary - unjustly and for retaliatory purposes.
http://hrcoalition.org/node/97

Between the Bars
Between the Bars is a weblog platform for people in prison, through which the 1% of Americans who are in prison can tell their stories.
http://betweenthebars.org/

The Journal of Prisoners on Prisons
JPP is a prisoner written, academically oriented and peer reviewed, non-profit journal, based on the tradition of the penal press. It brings the knowledge produced by prison writers together with academic arguments to enlighten public discourse about the current state of carceral institutions. This is particularly important because with few exceptions, definitions of deviance and constructions of those participating in these defined acts are incompletely created by social scientists, media representatives, politicians and those in the legal community. These analyses most often promote self-serving interests, omit the voices of those most affected, and facilitate repressive and reactionary penal policies and practices. As a result, the JPP attempts to acknowledge the accounts, experiences, and criticisms of the criminalized by providing an educational forum that allows women and men to participate in the development of research that concerns them directly. In an age where "crime" has become lucrative and exploitable, the JPP exists as an important alternate source of information that competes with popularly held stereotypes and misconceptions about those who are currently, or those who have in the past, faced the deprivation of liberty.
http://www.jpp.org/

Voices From Alabama Death Row - A Search for Justice

In Memory of Jon E. Yount, 1938-2012 by Peter Wagner

Christopher Petrella
• "Change is Inevitable; Growth is Optional"
Keynote Graduation Address, San Quentin State Penitentiary Graduation Trust Program
(Remarks given on 16 December 2010)
http://www.sanquentintrust.org/

Tyrone A. Werts
• Aging Out: True Justice, Fairness and Mercy
Tyrone Werts' sentence was commuted by Pennsylvania Gov. Edward Rendell on December 30, 2010. He was sentenced in 1976.

TENACIOUS: Art and Writings By Women in Prison
An excellent journal of articles, poetry, and art from women in prison. "We encourage women to share with us and others in the hopes of educating those in society and empowering other women to take a stand for their rights and the rights of others. " Subjects include: prison programs and how they do or don't work. Mothers educating their children while on the inside. Holding prison officials accountable for their actions and inaction. Women prisoners uniting to make a difference. Sexual discrimination or sexual preference discrimination and other subjects. Free for women prisoners. Men in prison send 2 postage stamps for each issue. Those not in prison: $3 to support the sending of free issues to incarcerated women. Send fee for issues and submissions to Tenacious, P.O. Box 20388, New York, NY 10009

Between the Bars
Between the Bars is a weblog platform for prisoners, through which the 1% of America which is behind bars can tell their stories. Since prisoners are routinely denied access to the Internet, we enable them to blog by scanning letters. We aim to provide a positive outlet for creativity, a tool to assist in the maintenance of social safety nets, an opportunity to forge connections between prisoners and non-prisoners, and a means to promote non-criminal identities and personal expression. We hope to improve prisoner's lives, and help to reduce recidivism.
http://betweenthebars.org/

Poetry Behind the Walls
PBW is the only ongoing journal in the world that is dedicated to writings from youth that are incarcerated. PBW is a collaborative project between Save the Kids, Le Moyne College's Center for Urban and Regional Applied Research, SUNY Cortland's Criminology Department, the journal Social Advocacy and Systems Change, and Hillbrook Youth Detention Center.
http://savethekidsgroup.org/?page_id=664

CANCERFORNIA: A Letter to the Golden State
A Red Wolf can be contacted at: thelastanarchist@aol.com. The original letter was posted at http://www.cannabismag.com/index.php/health/133-cancerfornia-a-letter-to-the-golden-state. We corrected some formatting problems in the version below: http://realcostofprisons.org/writing/cancerfornia.pdf

4 Struggle Magazine
This magazine focuses the insights and experiences of U.S. political prisoners on major issues of the day. While a lot of the writing is by political prisoners, other activists, allies, revolutionaries and insightful outside voices are included. Views, thoughts, and analysis from the hearts and minds of North American Political Prisoners and friends.
http://www.4strugglemag.org

Keep Your Coins, We Want Change
K.L. was incarcerated in NY State for five years. He is currently attending college in New York City studying engineering and is going to minor in physiology. His goal is to start a non-profit to help people who were incarcerated transition back to society.
http://realcostofprisons.org/writing/KL_Keep_Your_Coins.pdf

Anthony Rayson Zine Collection
Accessible on DePaulUniversity Library Special Collections and Archives. This is a complete listing of South Chicago ABC Zine Distro, a distribution network to people in the "free world" and in prisons. Zines from prisoners around the country are included in the materials listed.
http://library.depaul.edu/Collections/spcaPDF/RaysonAnthonyFA.pdf

Michael Santos
Michael Santos is currently in his 22nd year of continuous confinement for a first-time, non-violent crime. He writes about the prison system, the people it holds, and strategies for navigating confinement successfully.
http://prisonnewsblog.com/

The Beat Within/A Weekly Publication of Writing and Art from Inside
http://thebeatwithin.org/news/

Jalil Muntaqim / Anthony Bottom
A selection of Jalil Muntaqim / Anthony Bottom's writings is available at the freejalil.com web site.
http://www.freejalil.com/writings.html

Correctional Capitalism in the "Land of the Free"
By Jens Soering. Prism Magazine, January-February 2008. Jens Soering is serving a life-sentence in Virginia. His most recent book is The Church of the Second Chance: A Faith-Based Approach to Prison Reform, to be released this spring by Lantern Books. His other books include The Convict Christ: What the Gospel Says About Criminal Justice (Orbis 2006), The Way of the Prisoner and An Expensive Way to Make Bad People Worse. To learn more about Jens Soering go to http://www.jenssoering.com

Inside Out: Voices from New Jersey State Prison
Poems, stories, memoirs, and commentaries by forty-three inmates. This is a 20-page sampler assembled by Kal Wagenheim, who for 5 years directed a creative writing workshop at the NJ State Prison in Trenton NJ. It is a small part of a 70,000 word book with inmates' poems, stories, essays. Some of the poems are also available online at http://www.jerseyworks.com/trentonstate.html.
http://realcostofprisons.org/materials/voices-trenton.doc

Voices.Con
The Voices.Con newsletter is published monthly by term-to-life prisoners in California focusing on issues of primary concern to those servicing a long-term incarceration. All material contained within Voices.Con has been provided exclusively by California's term-to-life prisoner population. The information has been designed to also be of potential benefit in other jurisdictions having term-to-life and long-term prisoners as well as citizens or family members.
http://voicesdotcon.org

James Bauhaus
A collection of writings by James Bauhaus, LCF 88367, 8607 SE Flowermound Road, Lawton, OK 73501.
http://www.jamesbauhaus.org

PEN Prison Writing Program
http://www.pen.org/page.php/prmID/152

Founded in 1971, the PEN Prison Writing Program believes in the restorative and rehabilitative power of writing, by providing hundreds of people who are incarcerated across the country with skilled writing teachers and audiences for their work. The program seeks to provide a place for prisoners to express themselves freely with paper and pen and to encourage the use of the written word as a legitimate form of power. The program sponsors an annual writing contest, publishes a free handbook for prisoners, provides one-on-one mentoring to inmates whose writing shows merit or promise, conducts workshops for former inmates, and seeks to get prisoners' work to the public through literary publications and readings. Prison Writing Program, PEN American Center 588 Broadway, Suite 303, New York, NY 10012 E-mail: pen@pen.org Telephone: (212) 334-1660.

A Prisoner's Perspective
Blog by Dortell Williams
http://www.dortellblogs.blogspot.com/

Dortell Williams is a prolific self-taught writer who has an interesting insight to share. Dortell will complete 18 years of continuous imprisonment (of a life sentence) this year. He has spent his time wisely, earning a correspondence paralegal certificate, as well as teaching himself Spanish, stock trading and many other useful subject. He is seeking a website to host his writings and an editor to help him compile hundreds of essays into a compelling book. He can be reached at H-45771/A2-103, P.O..Box 4430, Lancaster, CA 93539.

Looking in on Lockdown: A Private Diary for the Public


By Dortell Williams

Dortell Williams is a forty-three-year-old life prisoner in California, where he has been confined for the last twenty years. A lover of learning, Williams calls prison his "university," and proudly asserts that despite the inherent repression of prison, he has still accomplished "a list of personal achievements." He is currently studying for an associate's degree in Seminary through a correspondence course. He has taught himself to type, operate computers, communicate in Spanish, and earned a paralegal certificate. But most importantly to him, he has taught himself to write, and by that means he passionately represents the underclass, speaking tirelessly to the mass injustice his peers and social class suffer in chucks of decades on a daily basis. Williams is a proud father of a beautiful daughter, a mentor to many, and a follower of faith through action against scarce odds.
http://www.buybooksontheweb.com/resource.aspx?id=4614