We encourage you to reproduce the work of the cartoonists. When reproducing their work: Include the full name of the cartoonist. Include a link to their individual page or to the entire Comix from Inside page. DO NOT include their mailing address in your publication. If you are publishing the work of cartoonists and have questions contact: info@realcostofprisons.org
Artist: Carnell Hunnicutt, Sr.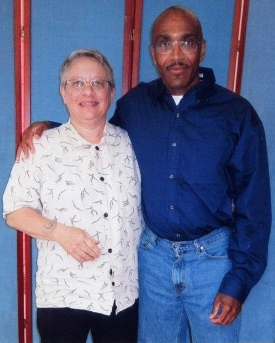 Carnell Hunnicutt, Sr and Lois Ahrens, Norfolk, MA, July, 2013
Carnell Hunnicutt's work is copyright by him. Please contact him directly for permission to reproduce his work.
			
Carnell Hunnicutt, Sr
77910
SNMCF 5A C114
P.O. Box 639
Las Cruces, NM 88004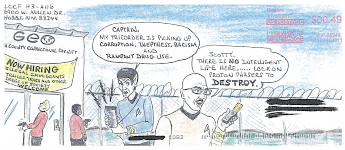 Star Trek: No Intelligent Life (envelope)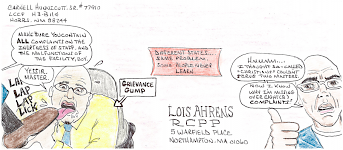 Different States, Same Problem

Drawings of West Rec Cage
(3 pages)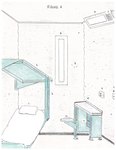 Drawings of Segregation Cell
(3 pages)

Conditioning (in a Police State)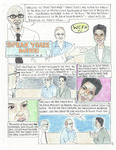 Speak Your Mind, Part 1
(7 pages)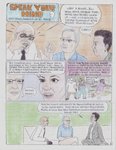 Speak Your Mind, Part 2a
(6 pages)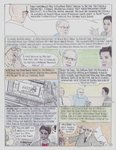 Speak Your Mind, Part 2b
(5 pages)

Speak Your Mind, Part 3a
(8 pages)

Speak Your Mind, Part 3b
(8 pages)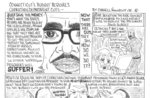 Connecticut's Budget Requires Correction Department Cuts
(2 pages)


The New Jim Crow: Mass Incarceration in the Age of Colorblindness
(7 pages)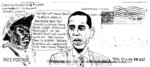 Marcus Garvey and Obama (envelope)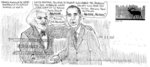 Mr Douglass and Obama (envelope)

Obama and Uncle Sam (envelope)

Envelopes, 12/2008
(3 pages)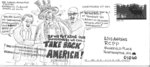 Envelopes, 10/2008
(3 pages)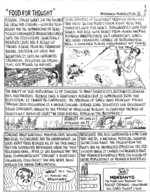 Food for Thought
(2 pages)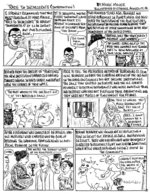 Race to Incarcerate
(2 pages)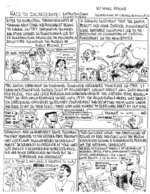 Race to Incarcerate, part 2
(2 pages)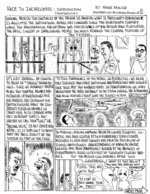 Race to Incarcerate: Introduction to the Conclusion
(2 pages)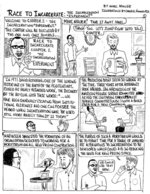 Race to Incarcerate:
The Incarceration "Experiment"
(2 pages)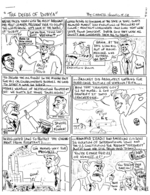 Deeds of Dubya
(2 pages)


Will the Real Criminal Please Stand Up?
(2 pages)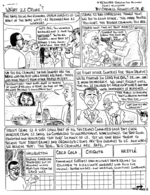 What is Crime?
(2 pages)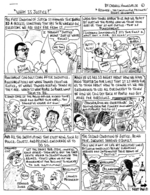 What is Justice?
(2 pages)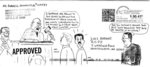 Mr. Brown and Mr. White (envelope)

The Prison Payoff
(2 pages)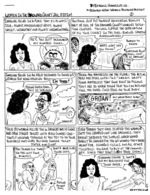 Women in Broward County Prisons
(5 pages)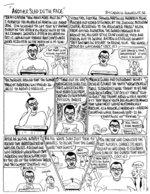 Another Slap in the Face
(2 pages)


Western Correctional Institution
(2 pages)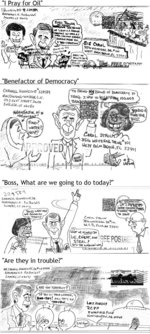 Envelopes
(2 pages)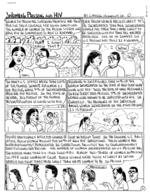 Women, Prison, and HIV
(2 pages)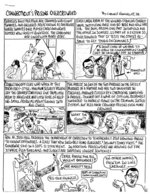 Connecticut Prisons Overcrowded
(3 pages)

Hidden Radioactive Releases from Nuclear Power Plants in the U.S.
(4 pages)

Teens in Adult Jails (A State Specialty)
(3 pages)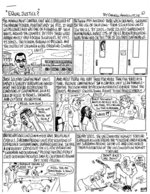 Equal Justice
(2 pages)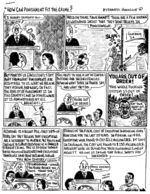 How Can the Punishment Fit the Crime?
(2 pages)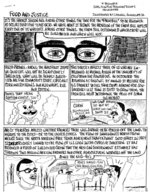 Food and Justice
(2 pages)

Klannektikut
(2 pages)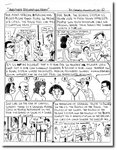 Another Occupation Army
(2 pages)

Pay-to-Stay Jails
(3 pages)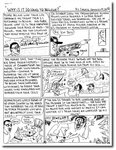 Hard to Believe
(2 pages)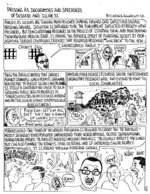 Prisons as Incubators
(4 pages)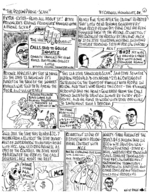 Phone Scam
(4 pages)